SEX
Math Teacher Accused Of Molesting 3 Students Pleads Not Guilty
12:20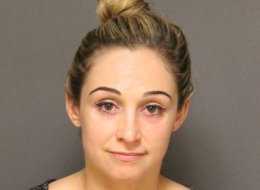 A California math teacher accused of molesting three students pleaded not guilty in court on Wednesday.
Melissa Lindgren, 28, allegedly molested the boys over the course of two years. According to CBS Los Angeles, she met all three alleged victims while working at Nicolas Junior High School in Fullerton. At least one of the boys was younger than 14 when the alleged abuse occurred.
Police said two of the boys were allegedly molested in separate incidents on school grounds, the L.A. Times reports.
Prosecutors said Lindgren allegedly kissed and touched one boy in a classroom, and another elsewhere on campus. She allegedly molested a third boy in her car away from school.
Lindgren is also accused of texting sexually explicit images of herself to the boys.
An investigation began after one of the victims came forward. Lindgren was arrested Feb. 21 and placed on administrative leave, according to KTLA.
"This occurrence is in direct conflict of Fullerton School District's zero-tolerance policy on staff misconduct, where the district's teachers, faculty and staff are held to a higher standard," district officials said in a statement.
Lindgren faces five counts of lewd acts on a child, two counts of lewd acts on a child under the age of 14, and three counts of distributing pornography to a minor. She also faces a sentencing enhancement allegation for lewd acts on multiple children.
If convicted on all counts, Lindgren could face more than 16 years in prison. She is free on $100,000 bail.